Well it's Valentine's Day and the best topic to discuss for today is L.O.V.E - & my hubby of course!
So in honor of my lovely (handsome) husband I will write a post completely about him. This is also a link-up to my sister's blog challenge You & Your Valentine.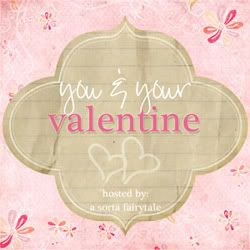 1. How we met.
Michael and I met the first time through my sis Mandy. They were friends (in high school) and were at our house before a Tolo dance taking photos, as I was with my date/friend. Little did I know that HER date would end up being my husband! :)
The second time we met was during Track & Field practice where I realized that we were both competing in the Long Jump. We started talking and hanging out casually (I was getting over an ex) and just seemed to click. The more we hung out the more we liked hanging out and one thing led to another.
It was a little awkward at first since he was my sister's friend and I didn't want to be 'stealing' him away from her. But she was my friend as well and was sweet enough to understand and be happy for us.
This all happened in the Spring of 1999, my last few months of high school. He still had two years left. Yes, you heard that right - I am older and a cougar.
2. Our best date.
It's hard to choose one. And I don't really think it was a date so much as a trip.
We took a long weekend trip to the coast and stayed at Lake Quinault, spending time in the Rain Forest and exploring the seaside parks. It wasn't anything glamorous or exciting but we fit in some good quality time together. We had some good food, some good laughs and it was a relaxing trip for us both. There is even a video he made of the trip so we have it to look back on. We've taken quite a few trips in our time together, but this one was very memorable.
3. Proposal.
Mike proposed in New Orleans in April of 2005. We had been together for 6 years. I had earned a trip through work and everything was paid for. I took Mike with me and we absolutely fell in love with the city. It was SO much fun. I don't think the proposal was planned much, he just carried the ring around with him one day until the moment felt right.
We stopped by Pat O'Brians for their famous Hurricane drinks (which are very alcoholic by the way!), and chose a place out in the stone courtyard. It was around our anniversary so I wasn't surprised when mike gave me a gift - a little velvet bag of loose jewels/stones he had been collecting. (I had always said I wished I had a bag of jewels, like you would find in a treasure chest.) I was pleasantly surprised to see that I had my own bag of them!
In among the jewels was a ring. My engagement ring. Before I knew it, he was down on his knee asking me to marry him. A nearby couple stole our camera and managed to take a few pictures while the people surrounding us clapped. It was a afternoon to remember.
4. Our Wedding.
We got married a year later in May of 2006. There were about 120 guests and it was PERFECT. Okay, there were a couple small glitches, but all in all it was fabulous.
We had a Mardigras themed wedding (for obvious reasons) so there were lots of brightly colored feathers, masks & beads in place of flowers and candles. We were married in an old theater with New Orleans jazz music and Cajun food. I have never thrown a better party.
It was romantic, fun, and we had the best time. I only wish we had the funds to do it all over again. Maybe a renewal of vows is in order...in 5 more years... :)
5. Things I Love about my Husband.
-he always leaves the toilet seat down.
-he thinks its funny when I laugh so hard I cry.
-he likes to watch Rom-Coms with me.
-he is open and friendly and can be comfortable in any setting.
-he cooks for me.
-he thinks I am pretty no matter my lack of make-up or weight.
-he remains optimistic even when I have a hard time seeing the glass half full.
-he stuck out three years of long distance and remained loyal even through the hard times.
-he lets me sleep in on the weekends without bugging me a bit.
-he is protective of my feelings and how others treat me.
-he was supportive through my 'dad' issues.
-he will be a wonderful father someday. He will be playful, loving, and strict when he needs to be.
6. To Michael -
I love you completely. I am so excited to be only months away from our 5 year anniversary. The last almost 12 years has been an amazing ride and I can't wait to see what else is in store for us. Thank you for being there for me and loving me unconditionally. We don't usually place much weight in Valentine's Day, but I do want to take this day's opportunity to make sure you are reminded of my love. To tell you that you mean a lot to me and I am lucky to have you. Thank you for being my partner in life and for choosing me. We may both be working today, but I am thinking of you and can't wait to give you a big Wifey hug. Being married to you is so much fun.
Yours lovingly, Liss

* The Title to this post means "Will you be mine?" in Italian. We both really love the language. ;)